Short boots of various styles are the favorite of all fashionistas. Most of the short boots are designed with low to high heels, which are both versatile and high. As long as it is properly matched, we can create the most fashionable and eye-catching look in minutes and become a beautiful scenery in the fashion industry.

Because of the versatile nature of short boots, many people think that wearing short boots is very "worry free". They can wear them with good effect without bothering. It seems that there will be no mistake when they are combined with any other bottoms. But in fact, it is very important to match the short boots with the best fit. If you don't understand the skills of showing the height of the short boots and showing the thin legs, you can wear the short boots with a harmonious effect, but it has no characteristics and belongs to the wearing style that is easily lost in the crowd.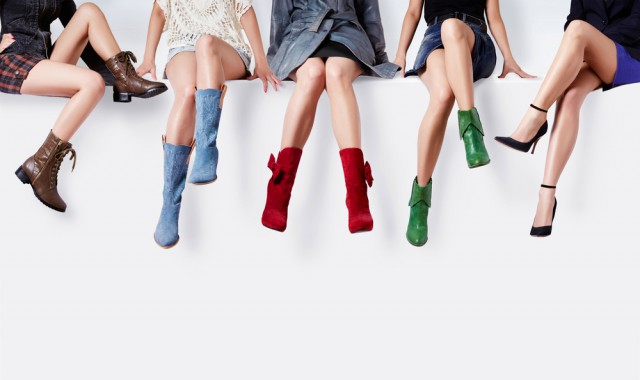 Let's share some short boots and different bottoms. Let's have a look!
1、 Short boots + micro flare pants
Bell bottoms have a very good effect on our leg shape. If the calf muscle is obvious or the leg shape is not straight, we can try the combination of "micro pants + short boots". The "tight up and loose down" pants can help us modify the short board with poor leg shape. No matter whether the leg is thick or the leg is not straight, micro bell pants are very suitable.
However, when choosing short boots, try to choose the style with pointed or square head. Such short boots have a strong sense of line, and the toe is three-dimensional, which can weaken the sagging feeling of the legs of the micro flared pants and make the whole shape look more energetic and streamlined.
2、 Short boots + cropped pants

The nine point trousers show the slender ankles, which are tall and thin. They are the favorite of many small girls. It is very suitable for small girls to match short boots with 9-point pants. The length of the 9-point pants is just enough to expose the ankle. With the low heel short boots wrapped around the ankle, the leg lines can be extended and the legs can be longer. The 9-point jeans look very street style, combined with a pair of handsome and unruly low heel short boots, it looks really cool and handsome.
3、 Short boots + Split skirt

Women aged 30 + have a steady temperament, which is more suitable for intellectual and elegant style. The combination of split skirt and short boots is a set of daily wear that is very suitable for mature women. The split design can show the leg lines, which can modify the leg shape and increase the sex appeal. With a pair of "pointed" short boots and a gentle split skirt, it can show a woman's elegant temperament.